Landing Page Design Company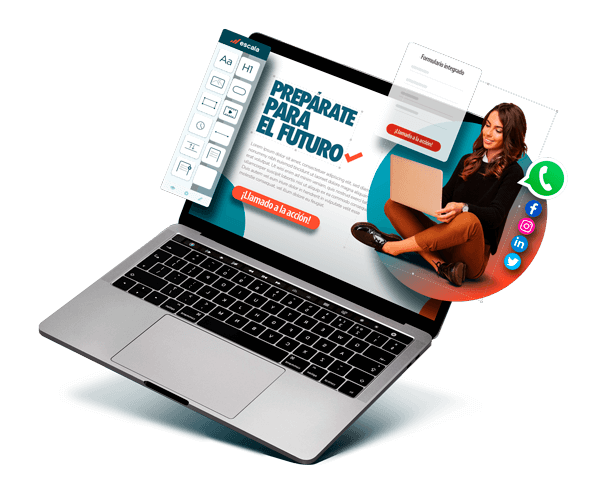 In plain English, a landing page is the page you want users to land on in order to take advantage of any offers, services, or products you have placed there. It typically includes a contact form that users must complete in order to access your service, download the eBook, take advantage of the offer, purchase the goods, or choose any other choice you like. Some people struggle to create engaging landing page content. You must write so that readers will be drawn in and click on your call to action button.
This is a web page that was made to provide information to your clients and obtain a result. It is frequently hosted in the same location as your website but is not required a part of its structure (often an email or a call).
Landing Pages Design Solutions
It's crucial to select a clear and succinct title. Typically, we recommend no more than seven words.
This piece of the material, which is frequently an image or a video, must make the main point of the webpage's subject immediately clear.
The gathering of information is unquestionably the primary goal of developing a landing page. It's crucial to have a straightforward form or phone number to figure out the conversion rate of visits.
The outcome it will deliver to your target audience is what sets the benefits of different goods or services apart.
 Testimonials & Name Dropping
To persuade the unsure, adding endorsements and recognisable company logos is a great idea.
In this kind of approach, we frequently overlook the necessity of creating a thank you page, despite its significance. If a user has come to this page, it's likely that he is already sold on your offering and will pay close attention to what you have to say. Utilize this page to "spread" the wonderful news through social media or email.
Take Your Business To Next Level With Our Web Development Solutions
Development Platform

Mobile Apps for any user, any platform, any industry
GiftCard
GiftCard allows you to buy, sell and exchange gift cards with other GiftCard members. After years of growing tired of accumulating a stack of gift cards we received for birthdays, holidays, and special occasions that were not where we ate or shopped at we often thought about trading with someone but didn't know how to go about it. We knew others in our area had to feel the same way.
UsnaPP
UsnaPP Nigeria is a marketpalace where user can buy or sell their or new items easily and quickly. Their free user friendly Android app make it easy to buy and sell items locally. The seller simply uses the App to snap a photo on app and uploading item on the marketpalace, while the buyer simply contact the seller to make the purchase.
Best App Development Company
Give us your ideas, we'll give you an app that your customers will love. Who trusts us? Entrepreneurs, directors, and CEOs. They love our customer-centric approach, our reputation, and our guarantee. Getting into the mobile app market is key to business growth in today's market. Our designs are geared to generate revenue and grow your customer base. Let us help you catch up with your competitors with our end-to-end solutions.
Skilled Professionals To Help You With Excellent Landing Page Designing
Want To Landing Pages Developer To Work With You?
A pioneer in Landing Pages, giving an individuality to your organization is crucial since it produces amazingly functional real-time corporate applications.