Development Of Taxi Booking Apps
Improve Your Cab Business by Developing Taxi Apps
GMS is a firm that develops taxi booking apps, and it provides you with a cost-effective solution by using cutting-edge methods.
Principal Elements Of Taxi Booking App Development Services
Grow Your Taxi Business Online With App Development
We'll create a user-friendly taxi booking app with frequent features that are simple to use and manage for registration to book.
The taxi app development services provided are tailored to meet your unique needs and goals at reasonable pricing.
Modern technology is used in on-demand taxi app development to improve performance and provide you with the finest service possible.
We guarantee to our consumers that the apps we design will be affordable while utilising cutting-edge technology. We offer our clients the chance to spend less money on a convenient taxi app.
Making an on-demand taxi app can help you save time by eliminating the need to manually find a driver.
In your cab booking app, you will find a real-time tracker. Customers can track their own navigational location with this app.
Develop A Top-Notch Taxi Booking App Ordering System and Launch It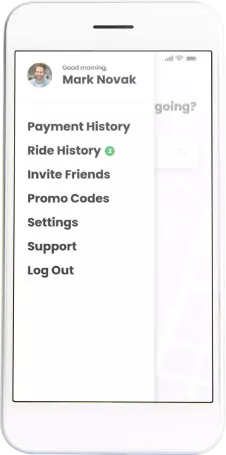 Manage every user and keep an eye on what they are all doing. The admin has access to reports on trips, customers, and earnings from taxi businesses.
The user interface is intended to be quick and simple, and the customer application aids end users in quickly and easily placing orders. Moreover, by checking the Google Map's transportation availability.
Facilitates receiving ride requests and enables the driver to view ride earnings.
What Services Are Offered by a Complete Taxi Booking Application?
The taxi or uber cab booking solutions are responsible ways to link customers and drivers in a single touch, and they provide top-notch management of the taxi industry.
Fulfill your On-demand APP Development Vision
Take Your Business To Next Level With Our Web Development Solutions
Best Taxi Booking App Development Company
Nowadays, it can be difficult to start a reputable mobile app development process because so many businesses claim to have the greatest app development solutions available. GMS, on the other hand, offers services from a taxi app development business that are best in class and significantly more capable. To ensure the optimal performance of the app, our taxi booking app development experts construct a clean code structure. Hire our qualified taxi app developers if you want high-quality app development services. Having a taxi booking app similar to Uber designed by us would enable you to boost the demand for your cutting-edge services, making them profitable and secure for passengers and taxi drivers.
GMS offers complete services for creating taxi booking apps on both web-based and mobile platforms. Our talented taxi app developers can create a fully working, user-friendly taxi booking app that includes a driver interface and admin panel thanks to their extensive experience providing numerous online uber cab booking app solutions. To create cab startups and aggregator websites, we use highly creative, cutting-edge technology. We can service our clients in real-time, streamline the relevant procedures, and give your customers a better tour booking experience by using these solutions. This means that if you're searching for a creative taxi booking app development company in India, you can rely on GMS to provide a feature-rich solution that aids in the achievement of your corporate goals.
Get Your
Free 1-Hour

Consultation Now
Let's Talk About Your Goal. Get In Touch With Us!
You can generate additional online search opportunities for your taxi business with GMS assistance. To create an app like uber with which you can transform your taxi book business to the next level.